Here are my five nominees for Crossword of the Month for January 2016. Note that if a puzzle requires a subscription to solve, clicking on the title below will lead to a review of the puzzle. If no subscription is required, clicking on the title below will lead to the puzzle itself.
In chronological order, our five nominees are:
Baby Steps by Patrick Blindauer. www.patrickblindauer.com, January 1st, 2016.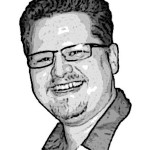 Patrick serenades his new daughter with Brahms's "Lullaby" in crossword form, where the opening notes of that piece occupy the same places in the grid as they do on its sheet music.
Ruby Slippers by Andrew Ries. Fireball Crosswords, January 6th, 2016.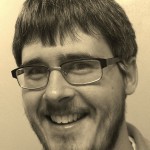 Who says there are no completely original theme ideas left in crosswords? Andrew found a beauty.
Instructions Included Inside by Jeff Chen. Fireball Crosswords, January 13th, 2016.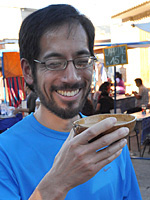 I said here a few months ago that we were nearing the saturation point on words-take-a-turn-in-the-grid themes, but this brutal solve extends the idea cleverly…
Twisting One's Words by Jeff Chen. The New York Times, January 17th, 2016.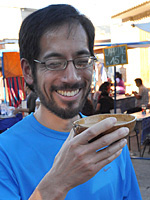 …as does this one, where theme entries revolve clockwise or counterclockwise around black squares based on the mechanics of the Coriolis Force.
Pie Filling by Todd McClary. Fireball Crosswords, January 31st, 2016.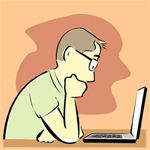 Smart meta whose trick seems so obvious in retrospect, though I myself didn't pick up on it until well after my solve.
And the winner is…
.
.
.
.
.
.
.
.
.
.
.
.
.
.
.
.
.
.
.
.
.
.
.
.
.
.
.
.
.
.
.
.
.
.
.
.
.
.
.
.
.
.
.


Andrew Ries for Ruby Slippers.
What a beautiful and original little idea: each of the four theme entries starts with a shade of red later revealed to be a RED HERRING you must ignore. So [Pink Floyd hit with hooks (also known as "Money")] is boxer Floyd MAYWEATHER, who gets hit with hooks, rather than a song. Similarly, [Crimson Tide and others] is DETERGENTS, [Maroon 5 head] is ABRAHAM LINCOLN — that's the $5 bill — and [Rose Parade feature since 1986] is ASK MARILYN, the column by Marilyn vos Savant that runs in Parade Magazine.
Tricky, novel, amusing — and at the same time, not horribly difficult. That's not an easy combination to pull off; the other four puzzles nominated this month were much more complex than "Ruby Slippers," but this puzzle's simple but very beautiful core idea makes it a clear choice — among tougher-than-usual competition — for January 2016's Crossword of the Month.
Full list of Crossword of the Month winners:
January 2016 — Andrew Ries, Fireball Crosswords
December 2015 — Patrick Berry, The Wall Street Journal
November 2015 — Evan Birnholz, American Values Club Crossword
October 2015 — Christopher King, Chris Words
September 2015 — David Steinberg, Chronicle of Higher Education
August 2015 — Patrick Berry, MGWCC
July 2015 — Jeff Chen, American Values Club Crossword
June 2015 — Erik Agard, American Values Club Crossword
May 2015 — Patrick Berry, Fireball Crosswords
April 2015 — Joe Krozel and Timothy Polin, The New York Times
March 2015 — Jeremy Newton, The New York Times
February 2015 — Byron Walden, The New York Times
January 2015 — Jill Denny and Jeff Chen, The New York Times
December 2014 — Pete Muller, Muller Monthly Music Meta
November 2014 — Tom McCoy, The New York Times
October 2014 — Caleb Madison, American Values Club Crossword
September 2014 — Peter Broda, Fireball Crosswords; Francis Heaney, MGWCC (tie)
August 2014 — Josh Knapp, The Washington Post
July 2014 — David Phillips, The New York Times
June 2014 — Patrick Blindauer, www.patrickblindauer.com
May 2014 — Sam Donaldson, Fireball Crosswords
April 2014 — Patrick Blindauer, www.patrickblindauer.com
March 2014 — Brendan Emmett Quigley, American Values Club Crossword
February 2014 — Neville Fogarty, www.nevillefogarty.wordpress.com
January 2014 — Peter Broda, The Cross Nerd
December 2013 — Francis Heaney, American Values Club Crossword
November 2013 — Pete Muller, Muller Monthly Music Meta
October 2013 — Francis Heaney, American Values Club Crossword
September 2013 — Anna Shechtman, American Values Club Crossword