Here are my five nominees for Crossword of the Month for December 2015. Note that if a puzzle requires a subscription to solve, clicking on the title below will lead to a review of the puzzle. If no subscription is required, clicking on the title below will lead to the puzzle itself.
In chronological order, our five nominees are:
Year-Ending Roman Orgy by Pete Muller. Muller Monthly Music Meta, December 6th, 2015.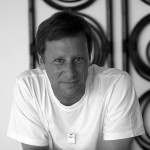 Seven Roman numerals hide in the theme entries, spelling out the meta answer. Remarkably, no other I, V, X, L, C, D, or M appears anywhere else in the grid. Don't try this at home.
Untitled by Jacob Stulberg. The New York Times, December 9th, 2015.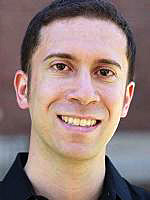 Not very complex, but based on an intriguing linguistic point: three familiar words mean "lightning" in Hebrew, French, and German.
Untitled by David Kwong. The New York Times, December 17th, 2015.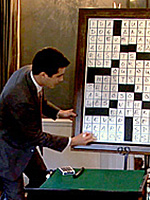 Four pairs of DICE on the across atomize into DIE and DIE on the downs.
Same Difference by Patrick Berry. The Wall Street Journal, December
18th, 2015.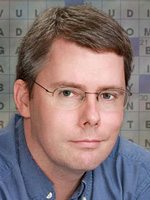 Five clues serve for two answers apiece, but vive la différence for their entries.
Game Theory by Ben Tausig. American Values Club Xword, December 31st, 2015.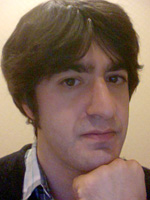 The best of the four puzzles in an ambitious "Monopoly" project, where this constructor wrote four related December 31st crosswords for the AVCX, the New York Times, Brendan Emmett Quigley's website, and BuzzFeed.
And the winner is…
.
.
.
.
.
.
.
.
.
.
.
.
.
.
.
.
.
.
.
.
.
.
.
.
.
.
.
.
.
.
.
.
.
.
.
.
.
.
.
.
.
.
.


Patrick Berry for Same Difference.
An easy but elegant meta: first the solver must notice that five pairs of entries in the grid share a clue, such as [Overseeing a child's development, say] for both PARENTING and PREGNANT.
Insight #2: that those five pairs differ from each other by one letter after anagramming, such as the additional I in the example above.
And then the final insight: that those five differing letters spell meta answer TWINS, which the five sets indeed are (fraternal, not identical).
An original and clean meta-idea, whose secrets reveal themselves in a logical and satisfying sequence. Each turn in the path is subtly concealed, but the correctness of the path is never in doubt once it's found.
This is a model of what an easier contest crossword should look like, and my choice for December 2015's Crossword of the Month.
Full list of Crossword of the Month winners:
December 2015 — Patrick Berry, The Wall Street Journal
November 2015 — Evan Birnholz, American Values Club Crossword
October 2015 — Christopher King, Chris Words
September 2015 — David Steinberg, Chronicle of Higher Education
August 2015 — Patrick Berry, MGWCC
July 2015 — Jeff Chen, American Values Club Crossword
June 2015 — Erik Agard, American Values Club Crossword
May 2015 — Patrick Berry, Fireball Crosswords
April 2015 — Joe Krozel and Timothy Polin, The New York Times
March 2015 — Jeremy Newton, The New York Times
February 2015 — Byron Walden, The New York Times
January 2015 — Jill Denny and Jeff Chen, The New York Times
December 2014 — Pete Muller, Muller Monthly Music Meta
November 2014 — Tom McCoy, The New York Times
October 2014 — Caleb Madison, American Values Club Crossword
September 2014 — Peter Broda, Fireball Crosswords; Francis Heaney, MGWCC (tie)
August 2014 — Josh Knapp, The Washington Post
July 2014 — David Phillips, The New York Times
June 2014 — Patrick Blindauer, www.patrickblindauer.com
May 2014 — Sam Donaldson, Fireball Crosswords
April 2014 — Patrick Blindauer, www.patrickblindauer.com
March 2014 — Brendan Emmett Quigley, American Values Club Crossword
February 2014 — Neville Fogarty, www.nevillefogarty.wordpress.com
January 2014 — Peter Broda, The Cross Nerd
December 2013 — Francis Heaney, American Values Club Crossword
November 2013 — Pete Muller, Muller Monthly Music Meta
October 2013 — Francis Heaney, American Values Club Crossword
September 2013 — Anna Shechtman, American Values Club Crossword