Here are my five nominees for Crossword of the Month for October 2014. Note that if a puzzle requires a subscription to solve, clicking on the title below will lead to a review of the puzzle. If no subscription is required, clicking on the title below will lead to the puzzle itself.
In chronological order, our five nominees are:
Orange Is the New Black by Brendan Emmett Quigley. www.brendanemmettquigley.com, October 2nd, 2014.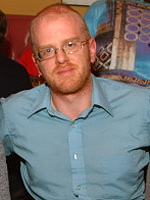 Title-driven two-way rebus: four squares in the grid are a rebus ORANGE one way and a "new" black square the other; this new black square divides its entry into two valid answers to the single clue. Nicely done.
Stack 'Em Up by Pete Muller. Muller Monthly Music Meta, October 7th, 2014.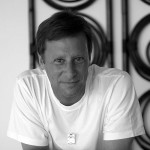 A clever contest crossword with an unusual aspect: the symmetry of the puzzle's theme entries emerges only after you've uncovered the meta.
Untitled by Mary Lou Guizzo and Jeff Chen. The New York Times, October 8th, 2014.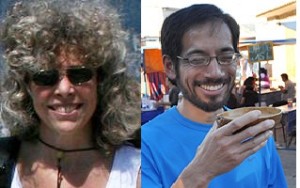 The word MAN progresses downward through the grid in five 15-letter theme entries, where, pulling double duty, THE DESCENT OF MAN both reveals the theme and completes its pattern.
A Few Short Words by Patrick Berry. Fireball Crosswords, October 23rd, 2014.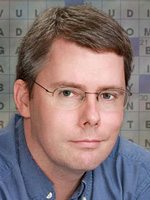 A crushword puzzle on acid: 27 (!) symmetrically-placed squares contain a full word in them (and comprise the puzzle's five theme entries).
Spirituals by Caleb Madison. American Values Club Crossword, October 29th, 2014.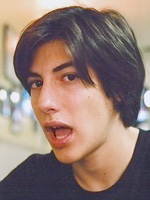 A bizarre and unique creation, with novel aspects in its clues, theme and fill.
And the winner is…
.
.
.
.
.
.
.
.
.
.
.
.
.
.
.
.
.
.
.
.
.
.
.
.




Caleb Madison for Spirituals.

Are ELVIS Presley and TUPAC Shakur really dead? Both are alive in this Halloween-week puzzle, where their names spookily emerge in rows of five black squares.
The wicked twist: all twenty (!) of the down entries on either side of the re-animated musicians form cluable words — and their clues are, in fact, cloaked by parentheses within the main clue. This echoes their undead state amusingly; for example, ABE is clued as [Fi(rst) v(ictim of his own broth)er], with [Fiver] serving as slang for a five-dollar bill (an "Abe"), while it becomes [First victim of his own brother] for ABEL, whose L is the second letter in ELVIS.
There are also two theme entries, DEAD BEATS and SOUL MUSIC, explaining the idea further.
Unique, strange and skillfully executed, and my choice for October's Crossword of the Month.
Full list of Crossword of the Month winners:
October 2014 — Caleb Madison, American Values Club Crossword
September 2014 — Peter Broda, Fireball Crosswords; Francis Heaney, MGWCC (tie)
August 2014 — Josh Knapp, The Washington Post
July 2014 — David Phillips, The New York Times
June 2014 — Patrick Blindauer, www.patrickblindauer.com
May 2014 — Sam Donaldson, Fireball Crosswords
April 2014 — Patrick Blindauer, www.patrickblindauer.com
March 2014 — Brendan Emmett Quigley, American Values Club Crossword
February 2014 — Neville Fogarty, www.nevillefogarty.wordpress.com
January 2014 — Peter Broda, The Cross Nerd
December 2013 — Francis Heaney, American Values Club Crossword
November 2013 — Pete Muller, Muller Monthly Music Meta
October 2013 — Francis Heaney, American Values Club Crossword
September 2013 — Anna Shechtman, American Values Club Crossword