This is the first installment of what will be an ongoing feature here, "4 Across with …" I'll ask four questions to a crossword puzzle personality, and they'll entertain/inform us with their answers.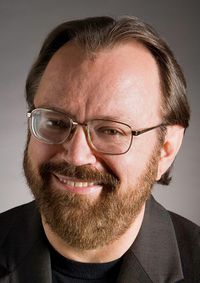 Stoked to have Merl Reagle as the inaugural 4 Across, a living legend and an idol of mine since childhood. Merl's syndicated 21×21 crosswords appears in scores of newspapers across the country, and fans love him for his wacky puns, creative fill and whimsical clues. He's proof that solvers will attach themselves to a specific constructor instead of a publication if they get that option (and like what they're solving).
He also has a new volume coming out next week, Merl Reagle's 100th Anniversary Crossword Book. It's illustrated by Pulitzer-winning cartoonist Jim Borgman.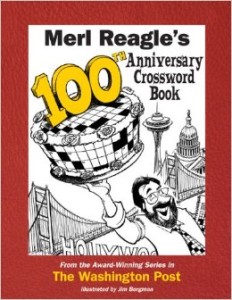 Without further ado: 4 Across with … Merl Reagle:
QUESTION #1: You made a living from crossword puzzles before the internet existed. How on earth did you pull that off without Crossword Compiler, e-mail, PayPal, Across Lite, Google Groups and Kickstarter?
MERL REAGLE: The pay for puzzles was pretty poor in the 1960s and '70s — I got $10 for my first NYT puzzle in 1966 — but it started getting better once GAMES arrived on the scene, perhaps because it was a magazine run by puzzlemakers rather than just editors. Still, the Pencilwise section of GAMES ran only three or four regular crosswords per month, so I was lucky to sell them even one crossword every couple of months. And the Ornery Puzzle, especially a wide-open one, took a very long time to make, so even then the crossword game was a labor of love, not a living. I started making puzzles for Dell in the early '80s just to be able to sell more puzzles on a regular basis (and because I liked Dell's editor, Erica Rothstein). The money was in Sunday-size puzzles — 21s — which was good, but they took a lot longer to make. My reference books at the time were pretty much everything that was available, including letter-finder books, which contained six- and seven-letter words sorted by their letter positions (such as _ _ T _ _ L).
It was clear by the mid-'80s that I was not the kind of constructor who could just churn out puzzles to make decent money. What I wanted was a regular newspaper gig — making one Sunday crossword a week for a major newspaper, and hoping to get $300 or $400 for it. Then I could make a few extra puzzles on the side to supplement that. I finally got such a job when the San Francisco Examiner started a new Sunday magazine called Image in October 1985. That was when I truly started to make a living from crosswords. It was also my first chance to be the editor of my own puzzles. At the Examiner, gags appeared in the puzzles exactly as I wrote them. Previously, they were often edited extensively, often to the point where the humor was diluted or no longer there. In my new book I write about one particular puzzle, an April Fools puzzle in 1990, that drew so much mail that the magazine's entire letters section was devoted to it. It was then that I realized that there were a lot of solvers out there who were on my wavelength, that "funny crosswords" had a lot of potential.
In late 1990, my better half Marie Haley and I started flying to newspaper conventions to try to sell the puzzle. (She was the driving force. I never would have done it on my own.) Every time we went we'd sell one new paper on the idea. We had a pretty good sales pitch and often cracked up the editors with the themes of the puzzles. In 1991 we got the Hartford Courant, in 1992 we got the Seattle Times and New York Observer, in 1993 the Syracuse Post-Standard, in 1995 the Philadelphia Inquirer and Cleveland Plain Dealer, in 1997 the Los Angeles Times, etc., etc., until we had about 15 major dailies as part of our homegrown "syndicate." Some of them paid a little, some paid a lot, but it all came down to making a single crossword a week and making a living off it. When the Washington Post came along in 2008, its sister papers came along with it, putting us over the 50-papers mark.
And until 2005 I was still using grid paper. Old habits die hard. But Crossword Compiler is waaay better.
QUESTION #2: Your pun themes are legendary. Give us a couple of your personal favorite themes/answers.
MR: The puns fall into two categories, regular and respelled. Regular ones are like, PSYCHO WARD (only episode of "Leave It To Beaver" that never aired) and respelled ones are like, GARGOYLES WITH SALTWATER (least-ordered dish at the Quasimodo Diner). My favorite type, though, is the "concept" theme, which is a very different animal. These are themes like "signs in a department store that you hope Junior won't take literally" (THROW RUGS, SLIT SKIRTS, POCKET CALCULATORS, etc.) and "inappropriate Muzak for a doctor's office" (KILLING ME SOFTLY, STOP DRAGGIN' MY HEART AROUND, etc.)
QUESTION #3: There's a strong connection between music and crossword ability. Anything you'd like to share on that front?
MR: I took organ lessons when I was 10, and in my teens I picked up a little piano (insert rimshot here). Now I'm a synthesizer guy. I'm a huge music fan, especially rock and pop rock, and especially '60s rock. I collect movie soundtracks. I like classical but not opera. You'd think, with my being a word guy, that I might be a natural poet or lyricist. Mmmm, no. I was in a rock band called Greylock Mansion in my early 20s, played keyboards and lead-sang, wrote 21 songs, most of which were awful. The last one, though, was pretty decent. It was called "Over My Shoulder" and became a local hit in Tucson AZ, where I lived at the time. (Okay, geez, I'll admit it. After all these years, someone just put the song on YouTube two months ago.) I then left the band and joined an acting troupe in the early 1970s — we did about a dozen original musicals and I wrote the music for all of the songs. I've been writing songs ever since. (I'm a little better at it now). [NOTE: Just to be clear, that's 22-year-old Merl himself singing lead on "Over My Shoulder" below. Guy coulda been a 1970s pop star!]
One similarity to puzzle construction is having a kind of instinct that "I know this is doable … the answer is within reach." Trying to get a puzzle theme to work and a melody to work — and in both cases to make the result seem natural — are very similar tasks, at least for me. They both involve creatively building something.
QUESTION #4: For those who don't know it, tell the story about the merlot. And the story about Tampa Bay Rays pitcher Alex Cobb. And then one more of your choice.
MR: The Fetzer Eagle Peak Merlot story is one I tell in the book, and gee, if I told it here it would definitely ruin the puzzle for most people! I will say this — within a few days of the puzzle appearing I got a note from the winery … there was a klatsch of employees there who were fans of mine and the note said to watch for something coming in the mail. It turned out to be a complimentary case of the wine. (We still have a few bottles left, now that I think about it.) My closing line to this story is that the following week I made a puzzle about owning a Lexus, but nothing happened.
As to Alex Cobb: He's one of the star pitchers for the Tampa Bay Rays. I was staring at his name one day, thinking, why am I staring at this guy's name? What could possibly be done with those eight inhospitable letters? And then I noticed that it anagrammed into a common two-word expression — something without which I probably could not watch Rays games. I find this to be frequently true, that a puzzle often comes from a place where you least expect it.
One other story: I was making a 21 a couple years ago and I was doing it the hard way — the toughest part of the puzzle was in the center, but I was constructing it from the outside in. When I finally did get to the center I could not think of any word to go into the nine-letter central spot. Then it hit me — the little windshield wipers that many cars have on their back windows. It was late, I wrote it in, and fell asleep, a very happy camper. Only when I woke up the next morning and looked at the puzzle again did I realize REAR WIPER was not the answer to my prayers.