At the Xword Info blog, New York Times crossword editor Will Shortz writes that today's Times puzzle was written four years ago (!):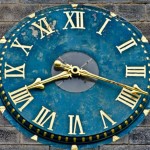 I accepted this puzzle in 2009, but held it for so long because I'd run similar themes in 2004, 2002, and 1997.
This is not unusual for the Times; constructors regularly mention to me that an NYT puzzle of theirs has been sitting around for years before seeing the light of day. Such a lag is frustrating for constructors and suboptimal for solvers since the grid won't contain any entries fresher than four (or however many) years old.
One big advantage that independent, web-only constructors have over the newspapers is their extremely quick publication schedules, so an indie puzzle you solve has almost certainly been written in the past couple of weeks (or even days).
As you might guess, quick publication gives a puzzle a much snappier feel than long-delayed publication.